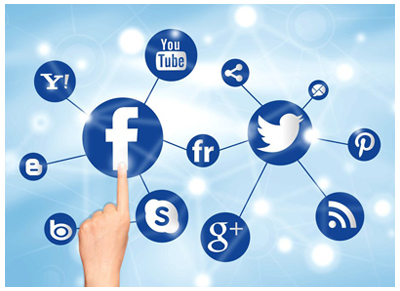 Social media is important to every business that has a web presence these days. Not only does it help Google to recognise a company and their website as being potentially valuable, the marketing opportunity afforded by social is invaluable.
Until last year, social wasn't really a trusted marketing tool as it was too difficult to measure ROI. However, this has changed now and it's widely thought that social is the new form of advertising.
Consumer conversation
This is because social works differently to other forms of advertising and this has essentially changed the way that businesses communicate with customers. Previously, businesses held the power for the most part, whilst now, consumers are firmly in the driving seat.
Social media is useful for establishing and building a brand as the message can be uniform across all platforms. Further to this, a brand can really express its personality through social as it allows for direct interaction with the customer.
However, depending on your industry, not all social channels are suitable for all industries, although most can be adapted to suit.
Users for the major social networks (As of March 2nd 2013)
Facebook: 1.06 bn active monthly users: 608m mobile users, 42m pages and 9m third-party applications
Twitter: 500 million total users, more than 200 million active users
Google+: 343 active users
Pinterest: 40m users*
YouTube: 800m users
LinkedIn: 200m users
Tumblr: 96 million blogs (as of 2nd March 2013)
*40m estimated as of October 2012, Pinterest has around 25m unique visitors per month.
As you can see from the user statistics, Facebook remains the largest social network in the world, although people accessing the site via a PC dropped 4% last year.
However, this is due to the rise in mobile usage and applies to most of the social networks, with the exception of Pinterest, which is still experiencing strong growth. Mobile global traffic increased 70% compared to the previous year in 2012 and 92% of all mobile handset internet traffic was generated by smartphones last year.
Which social network?
When planning a social media marketing campaign, it's important to do some homework and ensure that you are reaching the right audience, as well as addressing them in a way that they can relate to.
This obviously varies from industry to industry; whilst a business-to-consumer (B2C) company will want to keep content informal, different language will be used by a business-to-business (B2B) company.
Bearing this in mind, which channels should you choose to launch your campaign?
Facebook is more of a B2C resource, mostly due to the sheer amount of users and the nature of the site. For retailers and eCommerce, Facebook is the ideal platform for a marketing campaign.
That's not to say that a B2B company can't use Facebook, it can. However, again this depends on industry. Service providers and publishers all use Facebook to help distribute content and their company message and it's relatively useful to them. However, for a manufacturing or industrial business, it has little use as the niche is too small to be able to reach the right people on such a large site.
Google+ is similar to Facebook in nature and is great for reaching consumers and publishers. The video hangouts make for a useful tool for collaborative meetings and getting a message out to a small selection of people. Webinars can also be held, which are a great marketing tool and help companies to produce thought leaders.
LinkedIn, on the other hand is ideal for B2B, including manufacturing and industrial businesses, as it is peopled by professionals from all industries. LinkedIn is a powerful resource and should be used to network with others in the same industry, as well as to create a company page and discussion group to boost engagement.
Twitter (B2B, B2C) has its uses for all types of business and can be used to distribute content effectively. By this, I mean company news, blogs, updates, special offers and so on. It does take time for Twitter to be effective, but it's worth it, just be careful to check the account often and interact with others in the same industry, targeting your audience by who you follow.
Pinterest (B2B, B2C) began as a wedding planning site but has experienced massive growth in the past 12 months and as such, attracted marketers and companies. However, Pinterest is really only any use to a company who can supply good images to link back to their site with.
This doesn't have to be things you sell, it can be featured images from blogs, images of destinations for travel sites, infographics concerning a specific industry and so on. It's an ideal place for retailers, especially those with products that are outside of the norm.
YouTube (B2B, B2C) is often forgotten when it comes to planning out a campaign but the site is a great resource and more and more people are turning to web video to create and consume content. The video site can be used by any industry and is best used with video infographics and light-hearted corporate videos.
Tumblr (B2C) this micro-blogging platform is rising in popularity and is perfect for content creation which contains a strong marketing message with excellent visuals. The way that Tumblr is set up makes it ideal for content curation, as it's possible to share the content of others in a central area which is specific to a businesses niche.
Sharing in this manner gives the audience even more value and drives readers to sharing more of your content. This makes Tumblr one of the best out there when it comes to SEO and engagement and it certainly shouldn't be dismissed as just another blogging platform.
There remains debate on how effective social media is on driving sales to a website; Forrester Research say that it doesn't as much as email and search. However, even if this is an accurate assessment of online marketing, it doesn't mean that social media doesn't have its place.
Social raises brand awareness and helps to give businesses a solid web presence. There's little doubt that it drives traffic to a website, if used correctly, and has SEO usefulness with regard to how Google views social sharing.
Used well, social can help businesses to establish a meaningful dialogue with customers and other industry professionals and help them to drive interest. If this also drives sales then all the better.
It's wise to remember if you are setting up a social campaign that it does take time and there is no overnight road to success. In future posts we will look at this in more depth as well as the best strategies for gaining a healthy social following.